Digital Directions: Fundamentals of Creating and Managing Digital Collections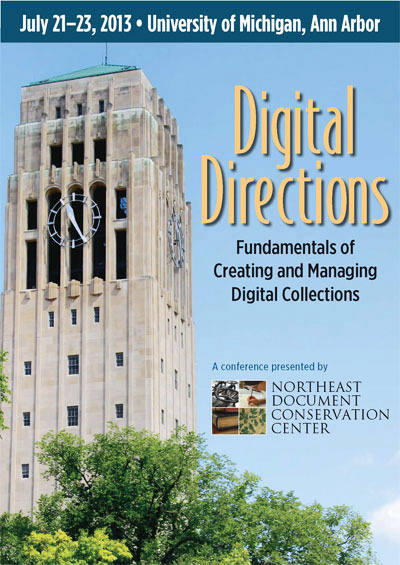 July 21–23, 2013
Michigan League
University of Michigan
911 North University Avenue
Ann Arbor, MI 48109
COST:
Early-bird: $499 (Through April 30, 2013)
Regular: $525
Student: $450
_______________________________________________________
 
For 16 years — since its first "School for Scanning" — NEDCC's training conferences have been answering your most basic questions about digitization. The world has come a long way in its embrace of new models for creating, curating, and using digital collections.  As "best practices" have evolved, so have the expectations of visitors, patrons, users, and researchers. New software, new tools, and new uses of our digital collections continue to drive us to answer again those very same basic questions for today's digital world.
Join a faculty of national experts, experienced digital collections curators, and colleagues from institutions large and small as we come together for 2½ days of exploration and study to identify new answers and opportunities for some of the challenges, considerations, and choices surrounding today's digital collections care.
Continuing the conference's long-standing focus on the creation of good digital objects, collections, and initiatives, Digital Directions 2013 will include:
KEYNOTE SESSIONS from distinguished leaders in the field, discussing where we are today and where we are going next in our digital collections care activities.
FOUNDATION SESSIONS, offering insights on both established and new tools and technologies for creation, capture, management, and use of digital collections, both digitized and born digital.
FOCUS SESSIONS, exploring standards and best practices, capture and metadata workflows, management tools, and discovery and access interfaces for everything from images and documents, to multimedia collections
and data sets.
NETWORKING OPPORTUNITIES throughout the conference's program and online through NEDCC's EdSpace learning management system and social media sites.
EXHIBITORS, chosen to showcase the products and services that can best support your digital collections care needs and challenges.
To learn more about this opportunity, click here.