Dear friends,
I have decided to start my blogs here with a first entry about cinema. Recently I was invited to give two talks about Japanese Immigration in Brazil, to introduce this movie (A Grandpa from Brazil), here at University of Illinois at Urbana-Champaign. As part of the Center for East Asian and Pacific Studies (CEAPS), AEMS (Asian Educational Media Service) develops a series of documentaries and independent films.
That opportunity allowed me to video-talk by Skype with the director, Dr. Nanako Kurihara, leading a Q&A session after the movie with all participants. http://www.aems.illinois.edu/events/asialens.htm#film01
For all HASTAC scholars and the general public interested in immigration and issues of identity, I would strongly recommend this movie as a must see it. This documentary was released in 2008 in Brazil, as part of the 100 years celebration of immigration between Brazil and Japan. Kasato Maru was the first ship to arrive in Brazil in 1908. As a curiosity, Sao Paulo City in Brazil is the city with the largest Japanese population overseas. Yes, not Los Angeles, not Hawaii, not San Francisco.
The movie focuses on the journey of Mr. Konno, a 92-year-old Japanese man who immigrated to Brazil in 1931. By telling his story, the film illustrates the history of Japanese emigration to Brazil through personal reflections brought to mind while visiting landmark sites of his youth. When in Japan, Mr. Kono spends his time visiting Brazilian families and individuals who immigrate to Japan.
According to the director, her motivation was to understand why Mr. Kono with more than 90 years old would travel back and forward Japan and Brazil to visit immigrants? A journey that takes more than 24 hours by plane, which is certainly not easy for an older adult.
Studying Human Resources Development, I tend to have the bias to analyse things combining three perspectives. (1) individuals, (2) groups and (3) organizations. That is my suggestion for your reflection while watching this movie. Try to think about the motivations of both Mr. Kono, an old man reviving and mirroring his life over the others. With brilliant and lucid insights, his views blur vanguardist and conservative quotes. A dialect between his own identity as Japanese and the dreams that the boundaries of nations one day will fade. Try also to argue what are the motivations of the director itself. Nanako Kurihara had her first trip overseas to Brazil in 1976, with her father. After falling in love with the country, she didn't wanted to go back to Japan. Try to think about your own experiences as individual? Some of you are international students living abroad. Some are from different states inside the same country? Some experience multiple nationalities in heritage? In fact, if we trace back, all of us are a blend of immigration, with differences in time. Even if our heritage accounts for native indians, at some point they had probably "travelled" too. The boundaries of this organization called nation is if we think deeply weaker than we tend to admit. Historically it was not always there.
If we think about groups, this movie provides an interesting case study not just about Mr. Konno, but of multiple families with their own reality. How similar they are from our own perspective? How about organizations? The relationship between Brazil and Japan and the immigration flows can be considered overtime differently. Waves of immigration started from Japan to Brazil before the first World War. To have more information about this period, I would recommend reading the work of our former first lady, Ruth Cardoso, which can be accessed in summary in a very nice article written by Ms. Celia Sakurai, from Columbia University:
http://academiccommons.columbia.edu/catalog/ac%3A124245
The immigration for temporaty jobs (arubaito) is also presented in this movie, showing indirectly or suggesting the life of Brazilians in Japan. More recently with the economics crises, another flow of Japanese or Japanese-Brazilians immigrating to Brazil is happening, which can somehow connect past and present challenges. 
And beyond all, I would encourage your reflection with this movie, to think about how similar we are. How much can we experience from others life? How much can we learn from Mr. Konno's passion. We transcend our own experience his positive example. Scenes like the boy who play soccer talking about Mr. Konno's age in comparion with his, has a naive-poetic touch, that connects generations and nationalities accross any culture restriction. Culture is an important element of our identity, but somehow in my modest opinion, many times overemphasized. It is often negativelly grounded by many political discourses that promote segregations. Differences should be celebrated until the point they don't promote discord.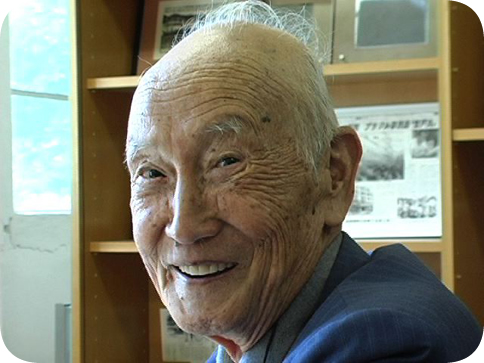 If you are not yet decided to see this movie, I would suggest you to check the study guide provided by the director at her own website: http://nanakokurihara.com/studyguide/
She creates a study guide for the film in collaboration with Stephen Dalton, Associate Professor at Osaka Gakuin University. In Japan, she mentions that it is very rare for a documentary film to have a study guide. In addition, this might be very helpful for teachers to hold interactive class conversations and debates.
Best regards and looking to hear your opinions! It will be great if you could share your impressions about this movie too.
Renato