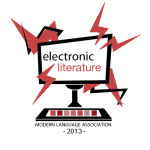 CURATORIAL STATEMENT
Kathi Inman Berens: MLA 13 "Avenues of Access" E-Literature Exhibit
"Practice mobility as a kind of dwelling," concludes Jason Farman at the end of
Mobile Interface Theory (
2012). "Practice movement that is not indelibly linked to ideas of progress and obsolescence.  The result will value the unique characteristics of place" (141).
I thought a lot about "mobility as a kind of dwelling" as
Dene Grigar
 and I curated
Avenues of Access
, our second show of electronic literature for the Modern Language Association's annual C
onvention
.  Unlike
last year's large show
 -- 160 works that told a comprehensive history of e-lit from its origins in concrete poetry and early hypertext to present day mobile apps -- the 2013 show "Avenues of Access" is an intimate collection of thirty new works in five sub-genres, each genre loaded on an elegant computer station located in our exhibit space, Hynes Convention Center Room 312.  
Mobility, a "dwelling," is also a mode of thinking and being.  Locative storytelling has always existed -- graffiti art is the readiest example -- but ubiquitous computing has changed where stories live, and who can tell them.  One thinks of
VozMob
, in which L.A. immigrant and low-wage laborers voice record their daily experiences, or
CicLAvia
, a pro-bike initiative in which, among other things, riders snap photos en route and post them to a Google map.  The Australian e-lit artist Megan Heyward (whose work "
Of Day, Of Night
" is on exhibit at "Avenues of Access") is launching in January 2013 "
Notes for Walking
," a narrative written on landscape at Sydney's Middle Head National Park and Mosman Art Gallery.  
It follows that as the location of stories moves from book or device to spaces themselves, our notion of what constitutes "reading" is abruptly changing.  We now understand that space and story work in tandem to produce the text.  Our mobile devices collaborate with our bodies to shift us effortlessly -- sometimes imperceptibly -- between virtual and embodied states.  In fact some e-lit authors expressly design for different types and durations of reader engagement: a sampling, a skim, and a fully immersive reading.  Authors have
learned to do so
 by tracking reader engagement with their works.  
Readers have always yearned to read stories in the physical settings the stories describe.  How many enthusiasts have ported copies of Walden or The Prelude to the famous lakes?  But immersive reading habits are actually disjunctive with "situated" or "implaced" reading, because we block out sensory input in order more fully to immerse ourselves in the story.  We read near Walden Pond; maybe we glance up, dislodge ourselves from the Thoreau's prose and dream a little.  But people are scarce in Walden, and Walden Pond is a popular, sometimes noisy place.  Does authenticity ruin the immersive fantasy? 
Reading spaces increasingly compel my attention as I think through what I find most novel and exciting about e-lit being made right now.  Code works and locative works -- that is, stories set in both virtual and physical space -- fascinate me.  When a new device, or software, or code library comes into being, e-lit artists ask themselves: what kinds of stories will this let me tell?  Our exhibit features Alexandra Saemmer's use of
Prezi
 as a storyspace, Manuel Portela's "
Google Earth: a poem for Voice and Internet
," and the hidden story lurking in the comments of the source code powering Mark C. Marino's
literary game
.  Each artist in this exhibit is pushing against convention in one way or another.  Alan Bigelow, Jason Nelson and Jim Andrews have all migrated from Flash to HTML5 in order to explore how their work might differently operate on mobile devices.  Check out their exhibited work in Boston and compare it to their large and distinguished collections of Flash-based work.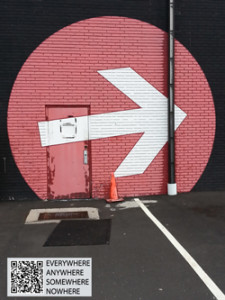 Some e-lit actually capitalizes on the fluid attention of a mobile reader.  Laura Zaylea's "SpeakToMeInCode," a work commissioned especially for this MLA show, is a locative romance that intends to disperse the reader's attention across story, device and social space.  Set at a fictional convention, "SpeakToMe" begins as a guide to grammar and good writing but transmutes into an illicit romance.  Readers will walk around the Hynes Convention hall pulling bits of story onto their mobile browsers via QR codes.  As they do so, the rhythms and ambient sounds of the bustle between panels will intrude upon their concentration, adding verisimilitude to the story's theme.  
With so much curated e-lit available on-demand, what's the point of a live exhibit?  
One is much more likely to encounter difference, make spontaneous and serendipitous associations, at a live event.  A favorite moment from last year's exhibit was when Renaissance scholar Janelle Jenstaad and "
Invisible Seattle
" artist Rob Wittig mashed up London 1560 and Seattle mid-1980s.  Janelle unscrolled her gigantic London map and she and Rob poured over it talking narrative, urbanism, and who knows what else.  Experiences like that don't happen when you read e-lit alone.  Convergence.  
Toward that end, "Avenues of Access" will feature two Creation Stations where guests can "get their hands dirty" in creative computing.  Creation Station One will feature Nick Montfort's JavaScript source code for "
Taroko Gorge
," his brilliant transposition of landscape poetry into a poetry generator that writes a new line every 1.2 seconds.  "Taroko" has been remixed at least
twenty-two times
 by other artists; guests might review those to spark imagination, then try their hand at filling Nick's source code with new variables to make their own poems: remixes or defacements.
Creation Station Two will feature two vintage computers, a Commodore 64 (1982) and an Atari Video Computing System (1977).  Guests will be free to to engage the computers as those vintage devices run the one-line BASIC program
10 PRINT CHR$ (205.5+RND (1)); : GOTO 10
, which is also the subject of a new MIT Press book by 10 authors writing in one voice: a book that sold out its first run in three days.  Five of the 10 PRINT authors will visit the exhibit and perform at the live reading Friday night at Emerson College's Bordy Theater at 8PM.  See the poster at the bottom of this post for more details.
We are extremely fortunate that more than ten of our thirty-two exhibited authors will swing by the exhibit to talk informally with guests.  Docents and I will livetweet these happenings so that virtual participants can join in the fun.  
One's notion of what can be digitized grows every day.  The acceleration of digitization in higher education alone is rushed by venture capitalists who sniff gold in the hills. 
"As for art," the Canadian e-lit poet Jhave recently wrote to me, "my faith in its longevity faded awhile ago.  Its purpose is now instructing conversations, things like [the] MLA exhibit are crucial for that.  I am sorry I won't be there." 
For Jhave (whose exquisite spoken-word poetry mashup "
MUPS
" is on exhibit), ephemeral "instructing conversations" endure when computational works wither.  It seems counter-intuitive, but it's not.   Ben Jonson said of Shakespeare: "He is not of an age but for all time."  
E-lit is of an age. 
Let its convergences take you someplace new.
IN BOSTON: 
"Avenues of Access" E-Literature Exhibit
Hynes Convention Center Room 312 
January 3rd (12-7 PM), 4th (9AM-7PM) and 5th (9AM-7PM);
Friday Jan. 4th, 8PM
Readings and Performances
Bordy Theater at Emerson College
216 Tremont Street
Free, open to the public reading at Emerson College's Bordy Theater Friday, Jan. 4th; and 
On TWITTER #MLA13 #elit