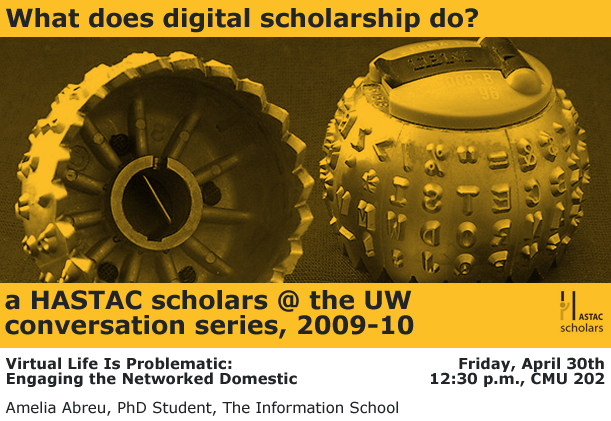 We're happy to announce that the next installment in the "What does digital scholarship do?" HASTAC Scholars series at the University of Washington is scheduled for this week.
The conversation---"Virtual Life Is Problematic: Engaging the Networked Domestic"---happens on Friday, April 30th, at 12:30 p.m., in Communications 202 (in the Simpson Center for the Humanities). It is open to the public.
Amelia Abreu (PhD student, UW's Information School) will be facilitating. Below is a description of the event, and here is the flier (in PNG). Looking forward!
The growth of broadband capability has significantly advanced the integration of networked technologies into the home, turning domestic spaces into interactive environments. Functional practices such as crafts, cooking and shopping have been transformed by such technology impacting the cultural economy of the home, but also shifting the relations of residents to these practices to the public sphere. As a result, the knowledges developed in the domestic are now traced and tracked in unprecedented volume and detail.
Looking at environments such as blogs, Twitter, and consumer forums, this discussion will explore identity, group dynamics, and document genres as they relate to the relationship between bodies, cultures, and knowledges. How do networked environments conflate and complicate our ideas of domestic across race, class, gender, and sexual modalities? What shape does the archive of this world take? Engaging with both the physical (spatial and embodied) and virtual dynamics of these communities, we will examine identity, performance and interaction in virtual domestic environments.
Check out the first five installments of the series, too!: "Pink Noises," "Digital Fabrication and the Database," "Evaluating Digital Scholarship," "Queer/ing/s Online" and "Designing Discoverability." Our seventh installment will occur in May.
Soon (I swear!), I'm going to post a recap of the UW's HASTAC Conversation Series here on hastac.org. Things are moving so quickly that it's hard to keep up!
In the meantime, thanks again to the Simpson Center for sponsoring all of the "What does digital scholarship do?" events.