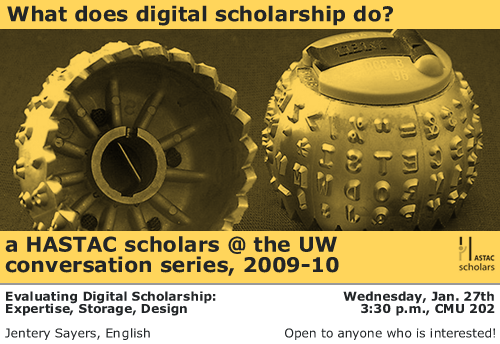 Just a quick announcement for the next installment in the "What does digital scholarship do?" HASTAC Scholars series at the University of Washington:
On Wednesday, January 27th at 3:30 p.m, I'll be facilitating our next meeting, on "Evaluating Digital Scholarship: Expertise, Storage, Design," which is open to the public at the Simpson Center for the Humanities.  Below is a description of what to expect, and here is the flier (in PNG).  Looking forward!
What are the different types of digital scholarship, and how should they be evaluated? With these questions in mind, I will begin this informal meeting with a ten-minute introduction to digital scholarship, looking at example web-texts and hypermedia from two e-journals, Kairos and Vectors. I will then transition to a facilitated group conversation about digital scholarship, broadly speaking. Ideally, the conversation will focus on three topics related to the current state of digital scholarship, namely expertise, storage, and design, by stressing who should be involved in the evaluation process, where/how digital scholarship should be deposited, and what certain interfaces afford (and don't afford) their intended audiences.

Those who are new to digital scholarship are especially encouraged to attend, and I welcome example, web-based projects that everyone could discuss during the meeting. Examples can most certainly include works in progress.
If you are not on the UW campus on the 27th, then, in late January, check back at HASTAC.org for a review of our conversation.  I'll post a follow-up, including some relevant materials.  
Also, check out the first two installments of our series: "Queer/ing/s Online" and "Designing Discoverability." Our fourth installment should occur at some point in February or March.  More soon!