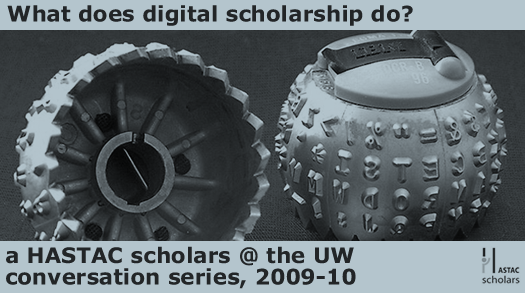 During the 2009-10 academic year at the University of Washington, the UW HASTAC Scholars are organizing "What Does Digital Scholarship Do?", a conversation series aimed at sharing digital work-in-progress, exploring texts in the digital humanities, and discussing practices in digital scholarship. Conversations will assume the form of roundtables, talks, modules, or workshops, and materials from each will be circulated via HASTAC.org.
Our first conversation (on Thursday, November 19th) will be facilitated by Peter Leonard from UW Scandinavian Studies. Here's more:
"Designing Discoverability: New Directions in Article Tagging and Abstracting"
Unlike their counterparts in Science/Technology/Medicine, Humanities journal articles are not comprehensively or consistently abstracted. This hinders cross-disciplinary research, as scholars in one field lack tools to quickly and easily discover relevant publications in a related, but distinct, discipline.
One testbed project has deployed discipline-based critical reviews as a substitute for journal-based article abstracting, and put the results online into a keyworded database. We'll examine this prototype, initiated by the Ibsen Society of America, to discover what it offers scholars both within Ibsen studies as well as the linked fields of literature, history and drama. What trends and directions emerge from the diachronic quantization of the metadata attributes of humanities articles? How useful are keywords in a trans-disciplinary context? And can online databases help expose the web of influence and connection that remains hidden in the linear, bound serial on the library shelf?
For more, see the flier.
These conversations are open to the public. If you are on the UW-Seattle campus when they are happening, then we hope you can join us!