It's that time of the academic year when everyone and everything gets crammed into one month of non-stop action. As the academic year comes to a close, I have been busy attending local art shows around the Champaign-Urbana area. Here are a few that I particularly enjoyed, and links to the involved artist's websites.
NOT FOR PROPHET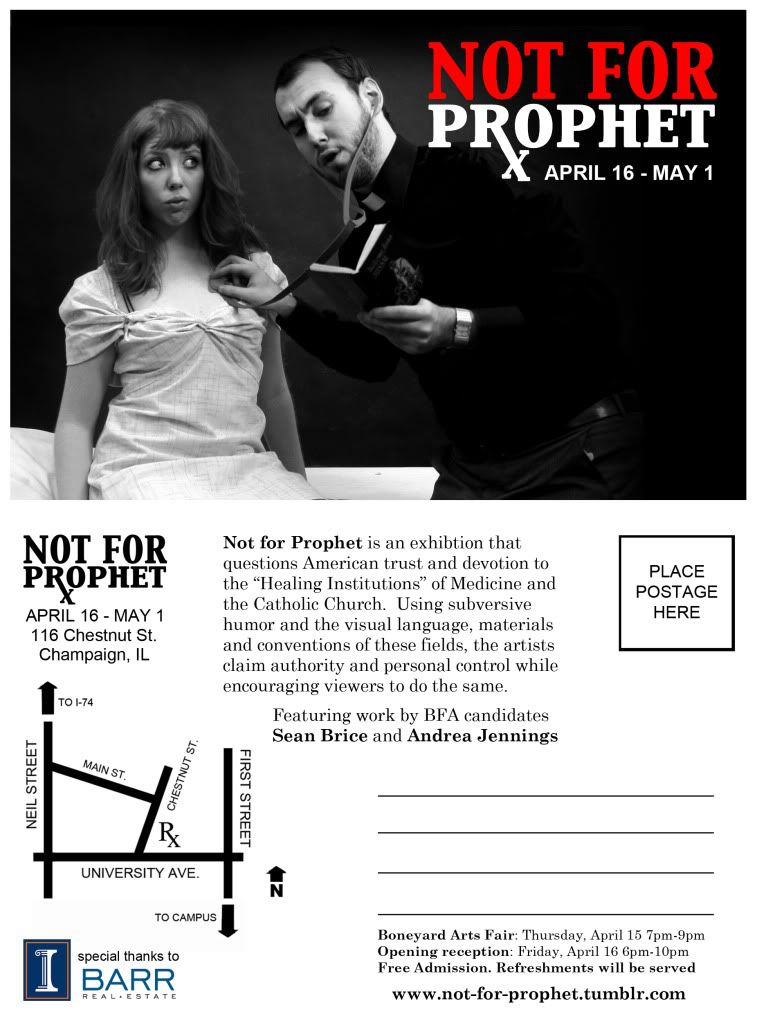 "NOT FOR PROPHET is a multi-media art exhibition that questions American trust and devotions to the "Healing Institutions" of Medicine and Religion. Using subversive humor and the visual language of these fields, the artists inform, claim authority and take control while encouraging viewers to do the same."
TRANSLUCID
"Matt Harlan and Russ Dietrich present an exhibition of 2D and 3D artworks created during their four years at the University of Illinois. Intentional or not, Harlan and Dietrich's shared space and close proximity during those four years has resulted in two bodies of work that fluctuate between animosity and cooperation. They share tendencies towards color and strong graphic sense, and diverge in terms of content and material execution. This exhibition reviews the work side-by-side (or back-to-back) and allows the viewer to construct paths or break connections."
KRISTI WILSON
Kristi Rae writes, sings, and performs original works. Her most recent work is a collection of monologues which are enhanced fabrications of people and experiences she has encountered. The characters range from alter egos and animals, to inanimate objects, and a grandmother. The performances speak of the burden of objects and the psychological attachment one has to objects. Rae is also a songwriter and singer,describing her songs as folk infused soul with country roots. Her music is influenced by Loretta Lynn, Eileen Jewel, Maxine Brown, and Rosallie Sorrels. She accompanies her songs with acoustic guitar and plays the toy accordion on occasion.
TWENTY-TWO REVIEWS
LANDSCAPES
Landscapes is a dual-channel video installation that is projected on two adjacent walls. The video depicts an anonymous woman traversing an desolate corn field. The two video channels present the same space from different perspectives forcing the viewer to consider her position in the scenario. Also, the piece exploits cinematic tropes such as the use of slow-motion and breaks in perspective to upset the viewer's sense of cinematic space.
ART WORK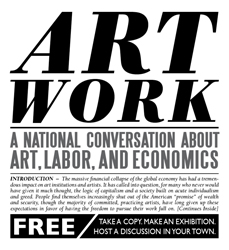 Art Work: A National Conversation About Art, Labor, and Politics – produced by Temporary Services, an independent, Chicago-based collective comprised of Brett Bloom, Salem Collo-Julin and Marc Fischer – is a newspaper and website that consists of writings from artists, activists and academics on the topic of working amidst depressed economies and how that impacts artistic process, compensation and artistic property. The newspaper is being distributed throughout the United States and Puerto Rico.
IN BETWEEN
"In Between" is a multimedia art exhibit comprised of selected work by Jeff Kolar and Anna Peters. Both BFA candidates in the New Media program at UIUC, the exhibition will be comprised of various digital media including video/sound installation, networked performance, and sited sculpture.
**Shameless self-promotion, I know...**