Oh, conferences.
The culmination of many a academic research and planning comes at the presentation stage. This is the point of research when everything comes together, we put the finishing touches on the final product, and are able to smooze and interact with our audience and show off this incredible piece of work that we have produced.
In my case, the #hastac2015 conference came at the right time. Finishing my undergraduate degree this May, I also completed my own HASTAC project in the form of a distributed book review for the text, Trayvon Martin, Race, and the American Justice System. 
I had just come from attending my very first conference the week before HASTAC, so I had mixed feelings about presenting at this one. Nervous, of course, for presenting but also interested to see how this conference would compare to the previous one. Not all conferences are created equal, and I was excited to see how HATAC would blend academic with fun.
I arrived on Tuesday night after a long day of traveling with my fellow HASTAC scholar, Alicia Pileggi. We were greeted by the friendly and professional staff of the Kellogg Hotel, even at near midnight. Going up to our room, we were intrigued to explore our hotel room. We weren't aware of the Kellogg Hotel's commitment to being as ecofriendly as possible, and while I found the accomodations to be more than impressive, the bathroom was an... interesting challenge. Let's just say, the figuring out the function of the teak mat was a worthwhile experience.
Wednesday, Alicia and I joined in the HASTAC Unconference, where several early birds gathered to discuss topics such as accessibility, race, and bridging the gap between undergraduate and advanced-degree scholars. The discussions were interesting and engageing, though there was a feeling of intimidation between the other Scholars and me and Alicia. A lot of the discussion trailed back to teaching methods and experiences - things that neither of us had experience with other than on the student standpoint. Towards the end of the Unconference, we were feeling like we needed recharging, so we left early. Alicia and I took the rest of the day to explore downtown East Lansing, eating lunch at Noodles & Co. while also doing some shopping at Urban Outfitters and the hidden gem of a used bookstore that we discovered on one of the main streets.
Thursday was a full day for both me and Alicia. After meeting our mentor for brunch that morning with a few other Scholars (the crabcakes at the Kellogg Hotel restaurant were delightful), we headed to the conference room for Alicia's lightening talk presentation during the panel "New Ways to Work, Learn and Play in the Digital Era". I live-tweeted the panel (as well as the following one centered on Women of Color Feminisms), and was intrigued with the amount of elecrifying ideas that were discussed from Alicia and the other panelists. They each explored the various ways that digital media worked to shape how we intereact and see the world, inside and outside of the classroom. 
At 5:30pm, I had my poster presentation of my distributed book review. Butterflies were swirling in my stomach, but I was surprised to see not only other Scholars interested in hearing about the project, but other HASTAC professionals as well. Being able to present to HASTAC director Kalle Westerling and organization cofounder Cathy N. Davidson was not only a pleasure, but a wonderful experience (plus, how awesome do we look in this picture?)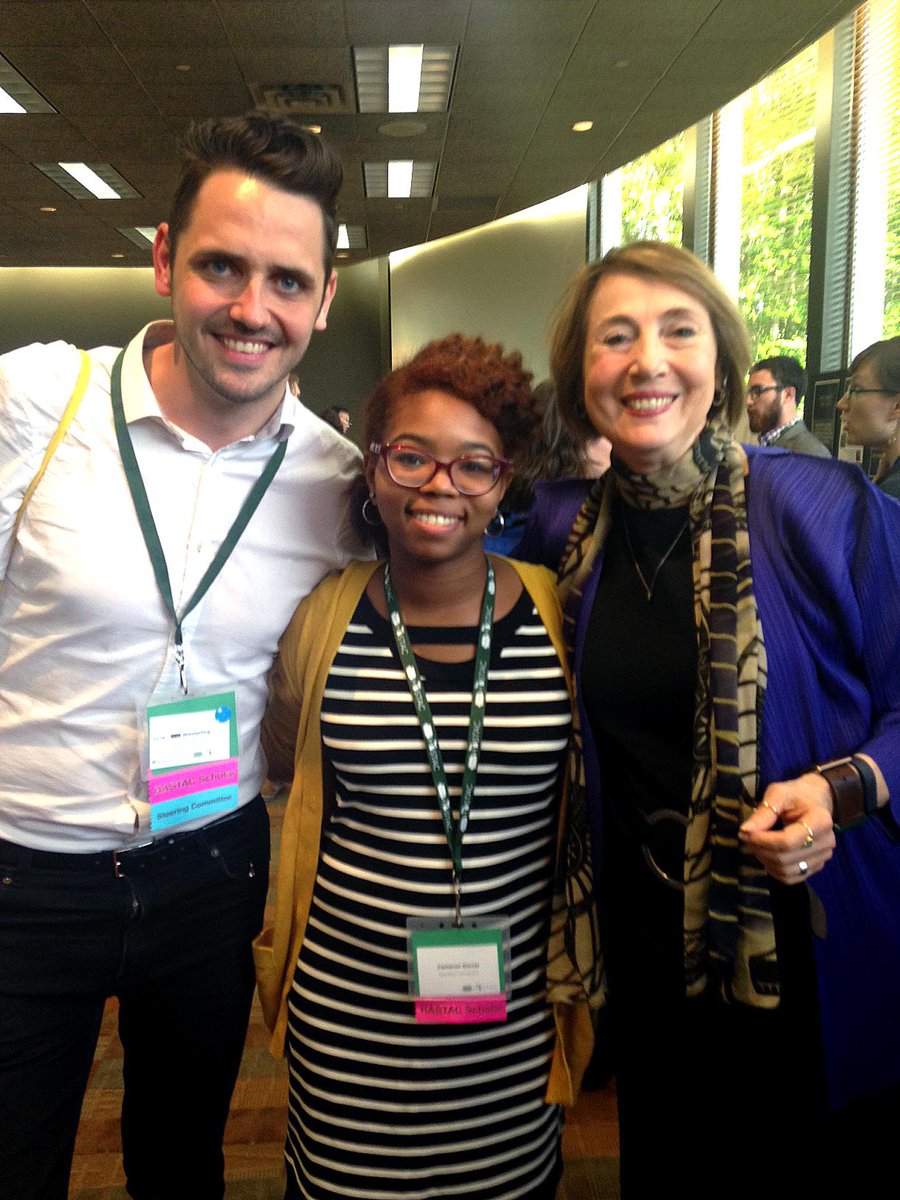 After the presentation, it was time to celebrate. Alicia and I headed to the reception at the nearby art gallary. Between drinks and delicious snacks, we mingled with other Scholars (#hastacwithoutcontext tweet: "Idris Elba looks like what good cologne smells like") and just let loose. It was a great ending to a hectic week and a half of traveling. Heading back to the hotel, we felt the mid-spring dusk breeze on our faces and let our laughter trail into the sky. Attending the HASTAC 2015 conference was a great experience - not only was I able to hold my own with other academics, but I felt that there could be a space for the kind of research that I saw as important. There was space for other schoolars trying to find their way in the often messy and confusing world of academia and scholarship, and that we could forge our identities into our research - emerging something new and worthwhile to display in the process.