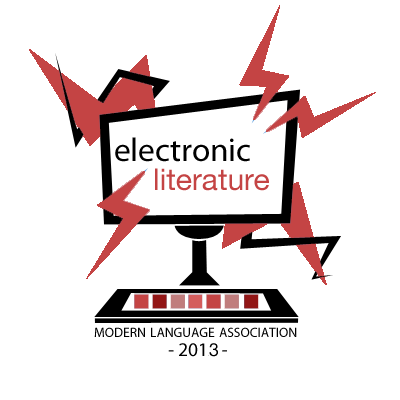 Electronic Literature, Year Two @ the MLA:  A [Brief] Curatorial Statement
by Dene Grigar, Associate Professor and Director, The Creative Media & Digital Culture Program at Washington State University Vancouver
"Avenues of Access: An Exhibit and Online Archive of New Born Digital Literature"marks the second exhibit that my co-curator Kathi Inman Berens and I have mounted for the Modern Language Association.  This year's show builds on last year's exhibit, which resulted in much notice from Digital Humanities Now, Kairos, Authoring Software, and HASTAC, as well as in visits to the show by over 600 MLA participants and to the online archive by over 3500 viewers.  It does so by introducing many new authors and newly created works of electronic literature.  As such, "Avenues of Access" aims to show that because of its close connection to digital technologies, electronic literature, an art form, is both vibrant and evolving.
Actually, considering the attention paid to electronic literature and events building around it in the last year––beginning with the readings of electronic literature at The Kitchenin NYC organized by Stephanie Strickland; to Jessica Pressman's "After E-Literature, There's No Going Back,"published in Salon.com; the upcoming April exhibit of electronic literature at the Library of Congress; the many workshops, conferences, and events led by Scott Rettberg and others involved in ELMCIP; and the forthcoming ELO conference taking place in Parisin September 2013––it seems like electronic literature has arrived at a second stage of growth and interest.  Certainly, it has found a comfortable home among the Digital Humanities and the literary arts. 
Considering the zeitgeist surrounding electronic literature, visitors may expect another large exhibit like last year'swhere we introduced over 160 works on 10 computer stations.  Instead, we have opted for a smaller, more intimate show, one featuring only 30 works, making it possible for visitors to read all of the works during the three days that the exhibit runs.  We have included four of the genres from last year––multimodal poetry, multimodal narrative, literary games, and mobile and locative works––and added a fifth, e-essay.  Thus, we introduce a new type of born digital writing among those previously highlighted.  Also of note, because mobile media are quickly providing forms for literary expression, visitors will find many more works included in this category than in the others.  What is most interesting about this genre is that many works of electronic literature published previously for desktop computers are finding their way now as mobile apps.  Both Judy Malloy's its name was Penelope, originally published in 1993 as Storyspace hypertext fiction, and Steve Tomasula's TOC, published in 2009 as a DVD, exemplify this trend.  Both will be available in beta versions for visitors to experience at the exhibit. As a way of providing a point of comparison, we are making the original versions of these two works also available for viewing alongside the app versions.  Finally, like last year, we are offering Friday Night Performances by authors included in the exhibit.  The combination of live readings, along with the exhibit and online archive, intend to provide a full engagement with the work during and following the conference and, so, underscore the vitality and ensure the longevity of the art.