Trigger warning: Campus rape is discussed in this article.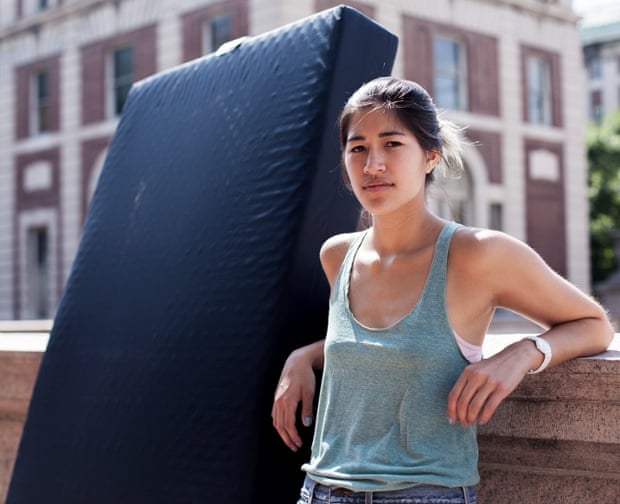 Emma Sulkowicz photographed by Kristina Budelis.
In early September, photos of one figure began sprouting up all over the internet. Dwarfed by the giant blue mattress on her shoulders, the girl trekked across a wide college campus in an ongoing performance art piece. With lilac-gray hair and slender build, she appeared pixie-like in comparison to the hulking mass she carried. Her efforts made a continual, powerful statement that the world was about to digest.
Now known to be Emma Sulkowicz, a Columbia University senior majoring in visual arts, the girl reports she was raped in her own bed, in her own dorm room in 2012. She alleges she was slapped, choked, and anally penetrated by a fellow Columbia student who still walks the halls. Since the incident, she has unsuccessfully sought justice from her school. During the hearing on her case, Columbia adjudicators insinuated that Sulkowicz's claims weren't feasible, issuing invasive questioning on how anal rape was possible without lubrication (Grigoriadis 26). Though the accused student was also cited by two other girls for sexual assault, the university maintains their decision of inaction.
The subject of universities' repeated failure to address sexual violence on campus is a pressing issue that remains unresolved. 78 American colleges (including Ivy League legends like Harvard and Princeton) are under investigation for civil rights violations. Now, a Title IX complaint has been signed by 28 students against Columbia for its own issues with handling sexual assault. As sociologist Danielle Dirks named it, this is an acute betrayal, "an atrocity tale about how poorly you were treated by the people you pay $62,500 a year to protect you."
Sulkowicz in her studio, with the rules of her performance piece. Photo by Jennifer S. Altman.
For her own closure, Sulkowicz decided to take matters into her own hands. In the mattress performance that serves as her senior thesis, "Carry that Weight," makes her personal pain public. She will take her dorm room mattress with her everywhere she goes on campus until her rapist leaves the university. In an interview, Sulkowicz says, "The past year or so of my life has really been marked by telling people what happened in that most intimate, private space and bringing it out to the light. So I think the act of carrying something that is only found in our bedroom out into the light is supposed to mirror the way I've talked to the media and talked to different news channels."
Sulkowicz's internet-induced fame acted as the bridge between her battle at Columbia and international attention. Photos of her performance were cyclically reblogged on Tumblr and reported on by feminist blogs. Her story caught fire, swirling with momentum in cyberspace until I found her face on the cover of New York Magazine in a solid Barnes and Noble. Her case serves as an important example of digital media and feminism working in tandem to accomplish change.
Of course, the union isn't all sunshine and rainbows. Feminism's opponents have internet access as well, taking to comment forums and YouTube to reiterate the same tired, victim-blaming tirades. But Sulkowicz's fight and its viral power seem to outweigh their words, expanding and thriving in the face of them.
Columbia students help Sulkowicz in a collective carry. Photo by Kiera Wood.
References:
Columbia Daily Spectator. "Carry That Weight." Online video clip. YouTube. YouTube, 2 Sept. 2014. Web. 2 Nov. 2014. https://www.youtube.com/watch?v=l9hHZbuYVnU
Grigoriadis, Vanessa. "A Very Different Kind of Sexual Revolution on Campus." New York Magazine 22 Sept. 2014: 24-29, 115-116. Print.
Smith, Roberta. "In a Mattress, a Lever for Art and Political Protest."  The New York Times. The New York Times Company, 21 Sept. 2014.  Web. 2 Nov. 2014.
http://www.nytimes.com/2014/09/22/arts/design/in-a-mattress-a-fulcrum-of-art-and-political-protest.html?_r=0