Last semester in my Duke Augmenting Realities undergraduate literary digital humanities writing course, my students and I digitally annotated graphic novels. After testing - and liking - PoetryGenius for collaborative text annotation, I desired a method for mobilizing digital annotation for image-based narratives. I found Szoter.com and the assignment was born. The students found this blog assignment to be fun, relevantly digital, thought-provoking and good practice for their final transmedia essay projects.
Here you'll find the assignment and the digital annotation results.
Assignment
For your Graphic Novel Response blog this week, you'll be digitally annotating pages from the graphic novel Daytripper as supplementary 'media elements' to 'augment' your weekly response blog posts. You will write your blog as usual using the Response Blog criteria but will also be required to integrate at least four annotated images – or two full spreads – in your blog. Be sure to explain your annotations if explanation is necessary.
Assignment Specs
Digitally Annotating the Graphic Novel
For your Graphic Novel blog, you'll be using Szoter.com to annotate pages from the graphic novel Daytripper. Szoter allows you to annotate images with text, shapes, arrows, and colors. You can then save your annotated images and upload them to our A_R Blog.
Here you'll see my sample demo page: (click on the image to enlarge)
Annotation Steps:
Find or upload images of the pages you'd like to annotate
Annotate the images and/or the white space surround (you can choose how much white space to include) and then save your Szoter canvases
Upload your annotated images to our A_R Blog
Huge thanks to Mark Sample who inspired our assignment with his Graphic Novel Tracing Project
THE RESULTS!
Here is a collection of their images. Click on the images to expan. You can see their full blog posts and all digitally annotated graphic novel pages here: http://sites.duke.edu/lit80s_02_f2013/tag/daytripper/.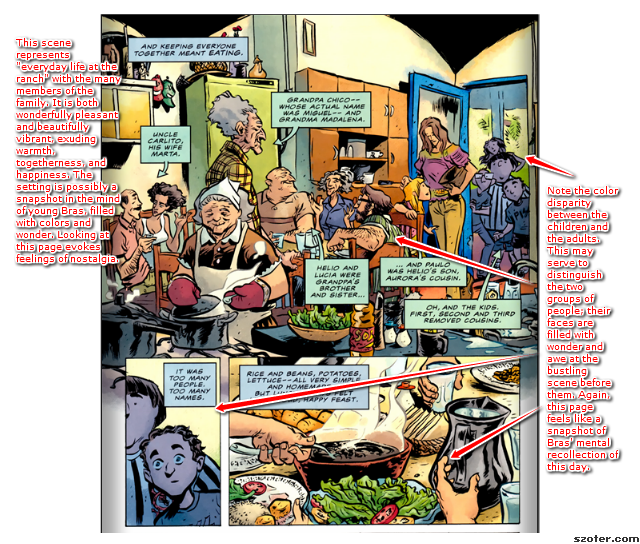 Kudos to my #augrealities students for being a wondrously bright and talented bunch!
Amanda Starling Gould