I've been thinking hard about creativity recently (I'm enrolled in Invention to Innovation: The Rhetoric of Creativity with Andrew Mara at NDSU). So, I figured, why think alone? I'm quite happy, therefore, to launch a blog interview series with some particularly creative, reflective folks in my network. Over the next few weeks this space will feature 4-5 interviews. So, be sure to check back often. This series was originally designed for my personal blog, A Wee Blether, but I thought it appropriate to cross-post at HASTAC. First up: Adam Walker Cleaveland.  
I've known Adam for seven years or so, and we've been confused for one another for at least 10. His blog–and general tech savvy–helped get me get going on this site back in 2008. His creative tweets and pictures adorn my timeline often, so he was an easy invite to the series.
AJC: What helps you stay creative? What practices do you find lead to maximum creativity? 
AWC: Being friends with other creative people. Most recently, that has taken the form of following (on Twitter and Instagram) and friending (on Facebook) other artists and people who are doing similar type of art that I am. I've found a few people on Instagram who have been incredibly supportive and encouraging – which helps me become a better artist. Recently, I've found maximum creativity after midnight while listening to Ásgeir's "In the Silence" album and drinking whiskey.
AJC: In recent weeks, what has struck you as particularly creative—in your work or beyond?
AWC: I'm taking an online art class called Sketchbook Skool. It is an amazing creative community who have been really helpful and encouraging over the past couple weeks. I'm continually inspired by the creative work of people in the class. Most recently, one of the teachers encouraged people to do a sketch a day, and he was sketching characters that he'd make up. I decided one night that I was going to work on developing my drawing skills by sketching a Facebook friend each day. Hopefully I don't offend toomany people. I'm looking forward to this project.
AJC: What advice do you have for readers seeking to be more creative?
AWC: Surround yourself with creative people (both online and offline). While never being a huge fan ofPinterest, I've found that to be a great resource for collecting stuff that inspires me that I want to save for later use. Also…not that this is all that revelatory, but practice, practice, practice. Even in the past month or two that I've become more involved in art, I can already see improvements. Also, show your work! Austin Kleon's book Show Your Work is an awesome reminder of the power of sharing our work, complete or incomplete.
AJC: How does the Internet–or technology, generally–enhance or hinder your creativity? 
AWC: I think I've shared above about how online artistic communities (deviantART, Pinterest, Instagram, Facebook groups, etc) can be super encouraging and supportive. I've also found that because you see so many people's amazing works–it's easy to find yourself thinking, "Well, MINE will never be as cool as that."
A few weeks ago, I bought a Wacom Intuous Pro (pen and touch tablet) to play around with drawing on my computer. I thought I would love it. And I did. Kind of. I think it will be a great tool for doing some touch up of scanned work, but as much as I thought I'd love it, and wanted to love it, there was something that didn't feel right about it.
As much as I'm into technology, I didn't really get into computer drawing. I missed the tactile nature of my Moleskine Watercolor notebook, playing around with different pens (I'm just recently getting into fountain pens) and messing around with watercolors. So, technology is obviously super cool and helpful – but sometimes you need to keep things low-tech.
AJC: For you, does God/spirituality have anything to do with creativity? How so…or not? 
AWC: I do feel like doing art and sketching can be viewed, in some ways, as a spiritual discipline. I do feel a sense of connection to God when I'm doing it – which makes it feel like more than art for me at times.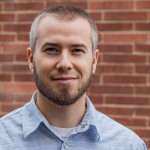 Adam Walker Cleaveland is an associate pastor at Winnetka Presbyterian Church in Chicago. He and his wife are parents to three boys, one of them living: a fantastic 2 year old. Adam is also an aspiring artist, just getting back into drawing and other mixed media, like when he was a kid.